Spiced Seitan Couscous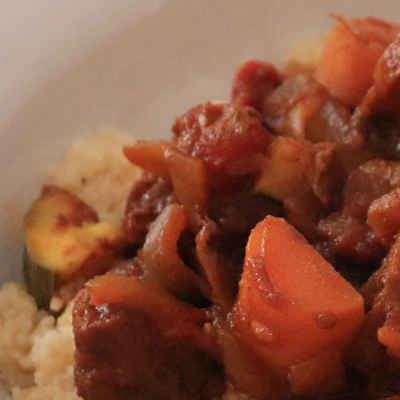 Preparation time: 10 minutes
Cooking time: 2 hours, 20 minutes
Serves: 4
Adapted from: Modified from Lamb Couscous
The recipe I use for seitan is here.
Ingredients
1 tbsp olive oil
1 onion, roughly chopped
250 g seitan (about a quarter of the seitan recipe)
0 -1 tsp chilli powder
1 tsp turmeric
¼ tsp ground ginger
¼ tsp ground cloves
¼ tsp ground cinnamon
300 ml stock (made with 2 tsp stock concentrate)
1 400g tin chopped tomatoes
1 large carrot, roughly chopped
1 courgette, sliced
Method
Fry the onion in the oil for 5-10 minutes until soft and translucent. Add the seitan and fry for a couple more minutes.
Add the spices, stock, tomatoes, and carrot. Add extra water to ensure everything starts off covered.
Cover and simmer for about 1 hour 40 minutes.
Add the courgette and simmer for a further 30 minutes.
Serve with plain couscous.