Lamb Couscous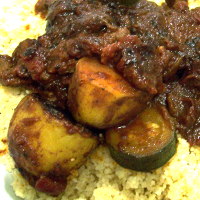 Cooking time: 3 hours
Serves: 6
Source: Family recipe
Ingredients
750 g / 1lb-10oz leg or shoulder lamb, cut into large cubes
2 tbsp olive oil
2 small onions, roughly chopped
1 –2 tsp chilli powder
1 –2 tsp turmeric
½ tsp ground ginger
½ tsp ground cloves
½ tsp ground cinnamon
salt and pepper
600 ml / 20fl-oz weak lamb stock
2 tins chopped tomatoes
2 large carrots, chopped
4 new potatoes, halved
1 courgette, sliced
Method
Heat the oil in a large frying pan, and brown the lamb. Add the onions and fry on a medium heat for 20 minutes
Add the spices, salt and pepper, lamb stock, tomatoes and carrots, and simmer for 45 minutes, until the sauce has thickened.
Boil the potatoes in water for around 10 minutes, then add them to the rest of the ingredients. Cover and simmer for a further 45 minutes.
Add the courgettes and simmer for 20 minutes or until the courgettes are soft.
Serve with couscous.