Seitan Rogan Josh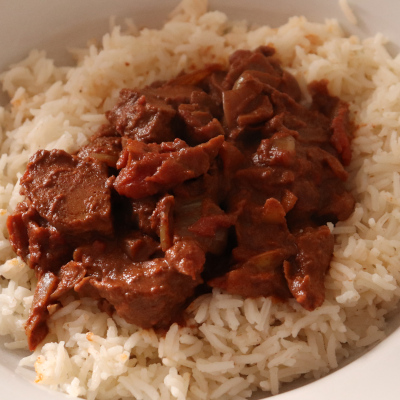 Cooking time: None
Serves: 4
Adapted from: Adaptation of Lamb Rogan Josh
This is an adaptation of the lamb rogan josh recipe, and the seitan absorbs the flavour of the sauce even better. Plain soya yoghurt works great if you want to make it fully plant-based. The seitan recipe I use is here.
Ingredients
2 tbsp vegetable oil
½ tsp ground cloves
¼ tsp ground cinnamon
1 large onion, roughly chopped
5 cm ginger, chopped
4 garlic cloves, crushed or chopped
300 g seitan (drained; about a quarter of the seitan recipe)
1 tbsp ground coriander
1 tsp ground cumin
1½ tsp paprika (plain or smoked)
0 -1 tsp cayenne pepper (to taste)
10 cardamom pods
1 400g tin of chopped tomatoes
Method
Fry the cloves, cinnamon and onion in the oil for 5-10 minutes until the onion is softened.
Add the ginger and garlic and fry for another couple of minutes.
Dice the seitan and add to the pan with the coriander, cumin, paprika, cayenne pepper, and cardamom. Fry briefly
Add the chopped tomatoes to the pan and simmer down until almost all of the liquid has evaporated.
Put on the rice to serve at this point.
Slowly add the yoghurt on a low heat. Simmer back down to the desired thickness.
Remove the cardamom pods and serve.