Lamb Rogan Josh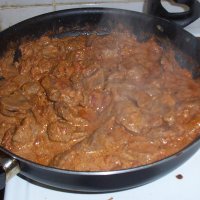 Cooking time: 1 hours
Serves: 4
Adapted from: Ainsley Harriott's Friends and Family Cookbook
I've only made this recipe once before, and it turned out a little dry. Be careful to not boil the sauce down too much.
Ingredients
sunflower oil
700 g / 1½lb lemb neck fillet, cut into bite sized pieces
6 cloves
1 small cinnamon stick
2 bay leaves
1 large onion, chopped
5 cm / 2" fresh root ginger, peeled and finely grated
4 garlic cloves, crushed
1 tbsp ground corriander
2 tsp ground cumin
1½ tsp paprika, sweet or hot
½ -1 tsp cayenne pepper (depending on how hot you like it)
¼ tsp ground cardamom
200 g / 7oz Greek yoghurt
10 cardamom pods
200 g / 7oz canned chopped tomatoes
salt and freshly ground black pepper
Method
Heat two tablespoons of the oil in a large pan, add half the lamb and fry until nicely browned all over. Transfer to a plate and fry the rest of the meat. Set aside.
Add another tablespoon of oil to the pan, then fry the cloves, cinnamon, and bay leaves for a few seconds. Add the onion and fry for 6-7 minutes until nicely browned. Add the ginger and garlic and fry for 2 minutes, then add the ground spices and gry for another 1 minute. Add the yoghurt, a tablespoon at a time, frying for about 30 seconds between each addition.
Return the lamb to the pan and stir in the tomatoes, 150 ml / 5fl oz boiling water, ½ teaspoon salt and some black pepper. Part cover and simmer gently for 30-40 minutes until the lamb is tender and the sauce has reduced and thickened and is clinging to the mat. Serve with pilau rice.