Mushroom and Spinach Calzone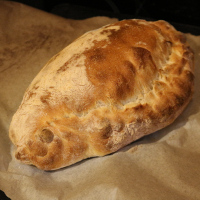 Preparation time: 1 hours, 30 minutes
Cooking time: 15 minutes
Serves: 2
Adapted from: Own recipe
The pizza dough recipe is here.
Ingredients
pizza dough for two people (scale for 200g flour)
1 onion
250 g mushrooms, sliced
400 g tinned tomatoes
3 tbsp tomato paste
1 tsp sweet smoked paprika (to taste)
125 g spinach leaves
125 g (drained) mozzarella, diced
Method
Fry the onion in a little olive oil until soft. Add the mushrooms and continue to fry until they have lost most of their water.
Add the tinned tomatoes, tomato paste, some black pepper and the paprika to the pan. Bring to the boil and simmer until almost all the moisture has evaporated (about 30 minutes). Stir regularly.
Place the spinach leaves on top of the tomato mix and allow them to steam down until they have lost most of their water too (about 20-30 minutes), then stir in.
Stretch or roll out the pizza dough into two circles, ideally on the oven tray you will use. Spoon the filling into a heap just off-centre of each dough circle, add the mozzarella, then fold over to make the calzone shape. Crimp the sides to stop the filling leaking out.
Bake in an oven at 240°C until the calzones look browned.