Caribbean Seitan and Sweet Potato Curry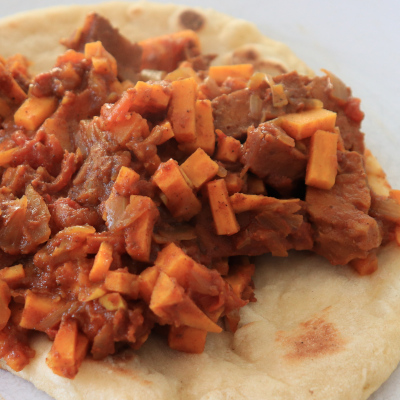 Preparation time: 45 minutes
Cooking time: 2 hours
Serves: 4
Adapted from: Adapted from Caribbean Lamb Curry
As with the other recipes I've recently attempted to replace the meat with seitan, it's the rest of the ingredients that carry the flavour, with the seitan providing texture. The seitan recipe I use is here. A naan bread recipe I like is here.
Ingredients
2 tbsp olive oil
1 onion, finely chopped
2 garlic cloves, crushed
300 g seitan (drained; about a quarter of the seitan recipe)
¼ tsp ground cloves
½ tsp ground turmeric
½ tsp ground cinnamon
2 tsp mild curry powder
2 tsp garam masala
1 400g can chopped tomatoes
juice of half a lime (1 tbsp / 15 ml)
300 ml vegetable stock
1 sweet potato, about 350g
Method
(Make the naan bread first; it needs two hours of rising)
Fry the onion with the oil in a large pan until softened and starting to brown (about 10-15 minutes).
Dice the seitan into bite-size cubes and add to the pan along with the garlic, spices, tomatoes, and lime juice. Cover and cook for about 5 minutes.
Add the stock and bring to the boil. Simmer covered for one hour.
Peel and slice the sweet potato into small cubes – smaller than the seitan. Add to the pan for another hour until softened. Add more water to the pan if the sauce is getting too dry.
Serve on top of a warm naan bread.