Welsh cakes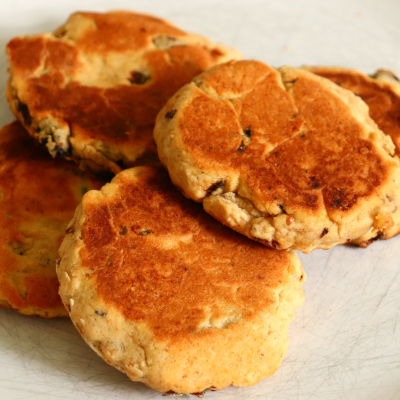 Preparation time: 20 minutes
Cooking time: 10 minutes
Serves: 12
Adapted from: Aled's Mamgu
For vegan, replace each egg with 1 tbsp flaxseed meal soaked in 30ml hot water (a "flax egg"), and use vegan margarine instead of butter.
Ingredients
200 g plain flour
100 g butter at room temperature
100 g caster sugar
1 egg
50 g sultanas or raisins, soaked in water overnight
½ tsp baking powder
1½ tsp mixed spice
Method
Cream the flour, sugar, and butter together in a mixing bowl, ideally so it looks like breadcrumbs.
Add the egg, sultanas, baking powder and mixed spice and mix into a dough.
Roll out onto a baking sheet to about the thickness of your little finger. Ideally place the baking sheet in the freezer for a few minutes (this makes handling the dough after it has been cut out easier)
Heat a frying pan to around the same temperature as you would for pancakes (medium-low – 2 on my induction hob).
Use a cookie cutter to cut out the cakes and then dry fry them until golden brown on each side.
Serve dusted with sugar, ground cinnamon, butter, or a mix of the three.