Vegetarian Haggis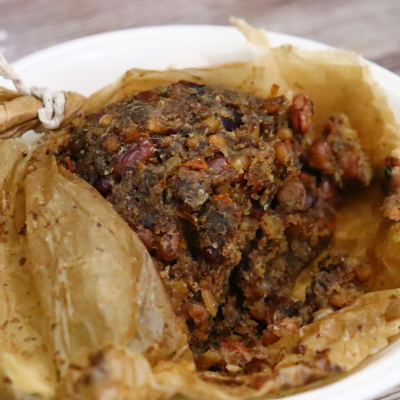 Preparation time: 3 hours, 30 minutes
Cooking time: 1 hours
Serves: 4
Adapted from: BBC Good Food
It makes a big difference to the final texture (properly crumbly vs soggy mess) as to whether the greaseproof paper and muslin wrap leak while boiling. Keep it roughly circular rather than a long cylinder, and don't twist the ends before tying them as this makes them looser.
Ingredients
1 large onion
1 carrot
250 g mushrooms
25 g sunflower seeds
1½ tsp ground coriander
1½ tsp nutmeg
1½ tsp pepper
1 tsp marmite
50 g pearl barley
1 can mixed pulses
50 g porridge oats
75 g vegetarian suet, or coconut oil, frozen and blended
50 g ground hazelnuts
Method
If using coconut oil for the suet, measure out into chunks and put in the freezer first. Also chill the food processor container if possible.
Finely chop and fry the onion, carrot and mushrooms along with the sunflower seeds and spices.
Add the marmite, pearl barley, and pulses. Cover with water, and simmer for 30 minutes until the pearl barley is tender. Top up with water as necessary, and boil off any water once the pearl barley is done.
Spread out on a plate or roasting tray and leave to cool completely to room temperature.
Stir in the oats, suet, and hazelnuts. Create a sausage shape on a large sheet of baking parchment.
Roll up the baking parchment, and then roll into a muslin cloth. Tie both ends tightly with string.
Boil in water for 1 hour, then serve.