Vegan Chocolate Cake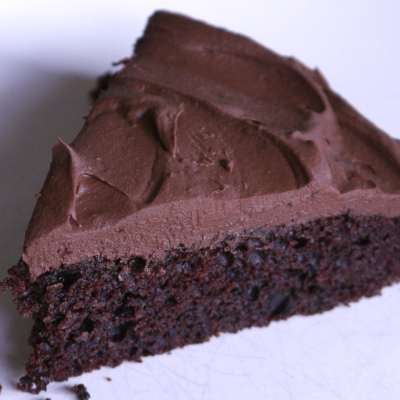 Preparation time: 30 minutes
Cooking time: 20 minutes
Serves: 10
Adapted from: Loving it Vegan (cake); own recipe (icing)
This cake doesn't attempt to use replica ingredients (such as vegan butter), just easily obtainable things that happen to be plant-based. Makes a two-layer cake, unlike the photo shown.
Ingredients
For the cake:

1 tbsp (7 g) golden linseed, powdered with pestle and mortar or similar (or: 1 tbsp flaxseed meal)
190 g plain white flour
190 g caster sugar
40 g cocoa powder
1 tsp bicarbonate of soda
½ tsp salt
240 ml soy milk
2 tsp vanilla extract
80 ml grapeseed or olive oil
1 tbsp apple cider vinegar
For the icing:

250 g coconut cream (the solid stuff if using tinned coconut milk), or half as much if the coconut cream is liquid at room temperature
250 g dark chocolate
icing sugar, optional
Method
For the cake:
Preheat the oven to 180°C / 160°C fan
Add 3 tbsp boiling water to the ground linseeds in a small ramekin, to make the binding agent. Leave to stand while mixing the rest of the ingredients.
Mix the dry ingredients, then add the liquids, including the binding agent (including solid material).
Mix roughly. The reactions for the rise start immediately, so don't spend too much time here.
Empty into 2 cake tins and bake for about 20 minutes until a cocktail stick comes out clean.
Leave to cool in the tin.
For the icing:
Melt the chocolate.
Beat in the coconut cream gradually.
Sweeten to taste with icing sugar.
Any surplus can be frozen and defrosted later.