Tofu Omelette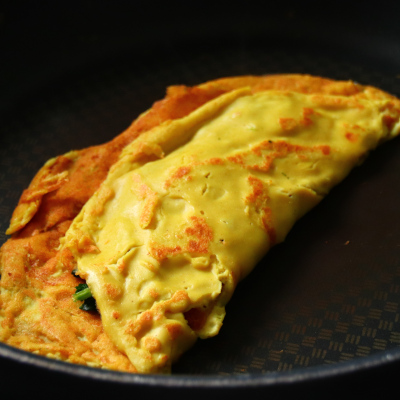 Preparation time: 15 minutes
Cooking time: 5 minutes
Serves: 3
Adapted from: Planet Veggie
Obviously fill it with whatever you like; the photo has some defrosted frozen spinach which is nice and quick!
Ingredients
2 tsp garlic paste
350 g silken tofu
2 tbsp nutritional yeast
2 tbsp olive oil
½ tsp turmeric
1 tsp ground black pepper
45 g gram flour
Method
Blend everything together. The batter should have a thick, even consistency.
Optionally add some water to thin a little.
Lightly oil a pan on medium-high heat.
Spoon a couple of heaped tablespoons of the mix into a circle in the pan. Spread out into a pancake shape.
Cook for 2½ minutes or so on each side. After both sides are cooked, spoon on any filling to one half, fold the omelette over, and cook until the filling is hot (if not already).
Serve immediately.