Tofu "fish" and chips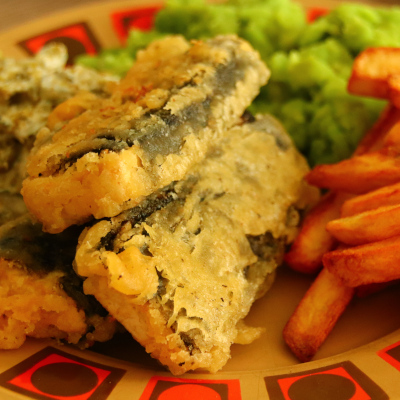 Preparation time: 20 minutes
Cooking time: 20 minutes
Serves: 3
Adapted from: The Easy Vegan
Be extremely careful with the hot oil! Always place the tofu away from you, and have appropriate fire aids nearby. The oil can be reused; just bottle it up afterwards once it has cooled.
Ingredients
1 pack of Cauldron firm tofu (about 400g)
40 g plain flour
40 g cornflour
½ tsp salt
black pepper
1½ tsp baking powder
Up to 200g water
Vegetable or olive oil
Method
Place a small glass of water in the freezer. I'm not sure why ice cold water makes a difference to the batter, but it really does.
Slice and press the tofu between two chopping boards with a couple of layers of kitchen towel underneath, if you have time.
Put on some oven chips to cook. Prepare tartar sauce and mushy peas.
Wrap each slice of tofu with nori. Give the nori a good amount of overlap.
Put enough oil in a frying pan to at least half-cover each slice of tofu, bearing in mind that the batter will make them thicker. Heat until the surface starts to ripple, but not smoke. (This requires quite high temperature for several minutes.)
Mix the dry ingredients, then add enough icy water to reach a very thick consistency. It needs to cover the tofu and not immediately drip off.
Dip each slice of nori-covered tofu into the batter to completely cover it, then place immediately into the pan. Repeat for as many slices that fit into the pan.
Fry until golden brown underneath. Turn over and do the same with the other sides.
Serve with chips, tartar sauce, and mushy peas.