Sweet Potato Satay Curry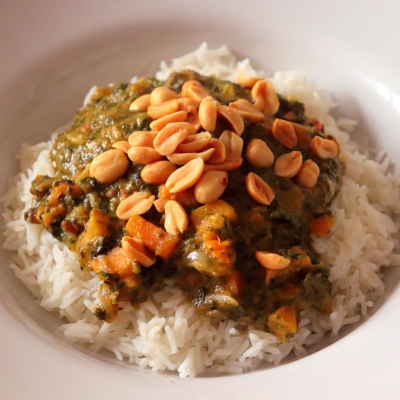 Preparation time: 20 minutes
Cooking time: 50 minutes
Serves: 4
Adapted from: BBC Good Food
Ingredients
1 tbsp coconut oil
1 onion
2 garlic cloves
5 -10 cm ginger
500 g sweet potato
3 tbsp red Thai curry paste
1 tbsp peanut butter
1 400ml can coconut milk
spinach for four people (frozen is fine)
juice of 1 lime
roasted peanuts to serve
Method
Chop the onion and fry in 1 tbsp coconut oil until soft (5 - 10 minutes).
Meanwhile, grate or finely slice the ginger; crush or finely slice the garlic; and peel the sweet potato before dicing into approx 1cm cubes.
Once the onion is softened, add the ginger and garlic and fry for a minute or so, then add the curry paste, coconut milk, 200 ml tap water, and sweet potato.
Simmer, partly covered, for 20-30 minutes until the sweet potato is soft.
Put on some rice to cook and add the spinach and lime to the curry. Serve with roasted peanuts sprinkled on top.