Squash Soup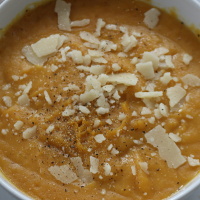 Preparation time: 2 hours
Cooking time: 1 hours
Serves: 4
Adapted from:
Ingredients
1 squash
2 parsnips
1 large onion
2 large baking potatoes
1 -2 carrots
2 celery stalks
2 stock cubes
Method
Dice the squash and parsnip. If the squash is not too large, the skin will be fine left on.
Add to a baking dish, season with salt and pepper and drizzle with olive oil.
Cook in the oven at 180°C for 90-120 minutes, stirring every 15 minutes, until the vegetables are starting to caramelise around the edges.
Soften the onion in a large saucepan, then add the celery for a minute or two.
Dice and add the carrots, potatoes, and the stock cubes, and then add boiling water to cover everything.
Simmer for 10 minutes, then add the roasted vegetables. Top up with more water to keep everything covered.
Simmer for another 20 minutes. Take off the heat.
Put the soup into a blender (in batches) and blend to a smooth consistency. Serve hot with bread and optionally with some grated cheese on top.