Smokey Paprika Gumbo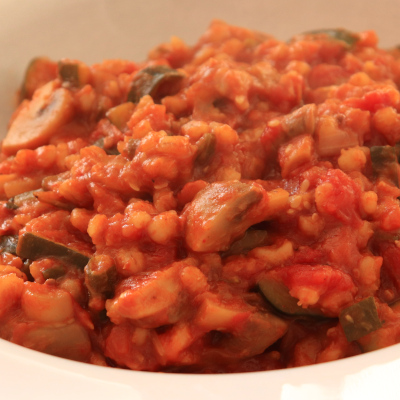 Preparation time: 30 minutes
Cooking time: 1 hours, 30 minutes
Serves: 4
Adapted from: Own recipe
This is not technically a gumbo, but with onions and okra in it I'm not sure what else to call it!
Ingredients
150 g pearl barley
1 large onion, coarsely sliced
3 courgettes, sliced
175 g okra (optional)
300 g mushrooms, quartered
2 cans chopped tomatoes
½ tube tomato paste
2 bay leaves
3 vegetable stock cubes
1 tsp sweet smoked paprika
Method
Cook the pearl barley as per the packet instructions (boil in unsalted water for 1 hour 15 minutes).
Meanwhile, fry the onions slowly in olive oil in a large casserole pot until soft and translucent.
Add the courgettes and fry until they start to soften.
Add the okra and mushrooms and fry until they soften.
Add the canned tomatoes, tomato paste, bay leaves, stock cubes, and paprika. Season to taste with black pepper.
Drain the pearl barley, rinse under the tap to remove any starch, and add to the gumbo.
Simmer for half an hour or until thickened.