Ricotta and Lemon Cheesecake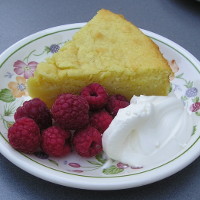 Preparation time: 1 hours
Cooking time: 35 minutes
Adapted from: Open University recipe cards
This isn't what most people would consider a cheesecake - it's not a biscuit base with some slop poured on top; rather a proper sponge cake with lemon and cheese in the mix. It's pretty light, and goes well after a summer lunch or picnic.
Ingredients
3 eggs
175 g (6 oz) butter
175 g (6 oz) caster sugar
zest of 3 unwaxed lemons
250 g (9 oz) ricotta cheese (I actually used mascarpone since I couldn't find any ricotta)
125 g (4.5 oz) self-raising flour
1 tsp baking powder
Method
Preheat the oven to 160°C/320°F/Gas mark 3, and grease and lightly flour a 7" inch cake tin, 3" inches high.
Separate the egg yolks from the whites.
Cream the butter and sugar together until light and fluffy.
Grate the zest of the 3 lemons and add to the butter and sugar mixture. Then gradually add the egg yolks and ricotta, beat until very smooth.
Whisk the egg whites in a separate bowl until stiff.
Fold the egg whites, sieved flour and baking powder into the egg and sugar mixture. Then spoon the finished mixture into the cake tin and place in the oven for 35 minutes.
Remove the cake from the tin and leave it to rest and cool for 1 hour.
Serve with fresh raspberries and whipped double cream.