Pumpkin Pie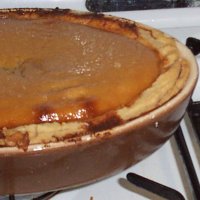 Cooking time: None
Adapted from: 8Legged Entertainment
This is a pretty time-consuming recipe but if you have a free afternoon in Autumn, it ends up pretty tasty! If you have a small pumpkin (or a smaller, 6 inch pie dish), then halving the recipe works fine.
Ingredients
For the filling:

500 g pumpkin purée, or 1 pumpkin
3 eggs, lightly beaten
160 g sugar
1 tsp vanilla
340 g evaporated milk (two tiny tins)
½ tsp salt
1½ tsp cinnamon
½ tsp fresh grated nutmeg
½ tsp ginger
1 unbaked 9-inch pastry shell; alternatively:

225 g plain flour
110 g butter
80 g sugar
1 large egg
Method
For the pastry:
Crumb together the flour, butter and sugar with your hands in a bowl.
Whisk the egg briefly and add to the crumb. Add milk if needed to bring the mix together, then chill until ready to roll out.
For the filling:
(Fresh pumpkin only) Scoop out the seeds and strings, then use a spoon to scrap out slivers of the flesh until you have about twice the nominal weight of pumpkin.
(Fresh pumpkin only) Cook in a medium hot oven until the flesh drops a lot of its fluid and is tende. Allow to cool slightly, then drain and puree in a food processor.
In a large bowl combine pumpkin, salt, cinnamon, nutmeg, and ginger.
In a separate bowl, beat eggs until slightly thicker and lighter in colour. Whisk in vanilla, sugar and evaporated milk. Combine with pumpkin mixture and whisk until smooth.
Pour the mixture into unbaked pastry shell and place on the center rack of a 220°C oven. Bake for 15 minutes, then lower temperature to 175°C / 350° F and bake for an additional 45 minutes or until firm. (A knife inserted into the center of the pie should slide out clean.)
Serve warm or chilled with as much whipping cream as you can get on top of a slice.