Phở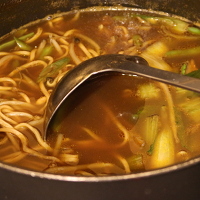 Preparation time: 15 minutes
Cooking time: 15 minutes
Serves: 2
Adapted from: Adapted from Zero Carbonista
I first tried phở (pronounced fuh) in a chain of Vietnamese restaurants in London called Pho. When I visited Vietnam itself it was actually quite tricky to find it in any of the tourist spots, which is a shame because it's delicious!
Ingredients
2 litres vegetable stock
1 -2 tbsp sesame oil
1 -2 tbsp dark soy sauce
½ tsp Chinese five spice
½ tsp chilli flakes
1 clove garlic, crushed
½ inch ginger, grated
1 pak choi
100 -150g mushrooms, roughly sliced if needed
1 handful green beans
1 large handful bean sprouts
2 servings of Udon or egg noodles
Method
Bring the stock to the boil and add the oil, soy sauce, five spice, chilli flakes, garlic, and ginger. Simmer for 2-3 minutes.
Add the pak choi, mushrooms, green beans, bean sprouts, and noodles. Simmer for 5-10 minutes.
Serve hot.