Mushroom Tartlets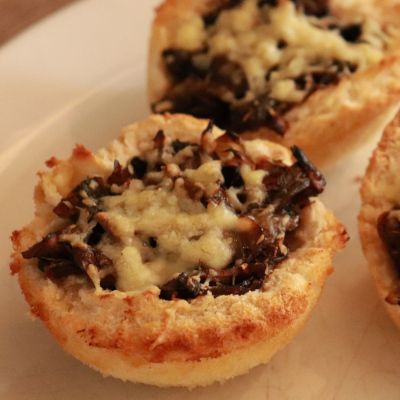 Preparation time: 15 minutes
Cooking time: 35 minutes
Serves: 12
Adapted from: BBC Good Food magazine
The number of servings really depends on how big you cut the bread and how full you like the tartlets. The original recipe implies 12, and I don't have a small tartlet tin to compare - I got three from halving the recipe using a muffin tray!
Ingredients
2 tbsp olive oil
1 onion, chopped
1 tbsp brown sugar
250 g chestnut mushrooms, chopped
1 garlic clove, crushed
thyme, to taste
butter (at room temperature for spreading)
12 slices of thick white bread
100 g strong cheese, grated
Method
Soften the onions in the oil (about 10 minutes), then add the sugar, thyme, and mushrooms. cook the mushrooms down.
Add the garlic and fry for a minute or so.
Cut 7-8 cm circles from the bread. Butter and place face down into the tray, creating a crater for the filling.
Fill the tartlets with the mushroom mix.
Sprinkle the cheese over the tops.
Bake at 220°C for 10 to 15 minutes until the cheese has melted and started to brown. Serve while still warm.