Mushroom-stuffed Pancakes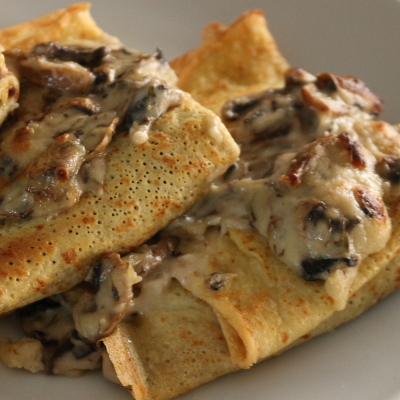 Preparation time: 20 minutes
Cooking time: 30 minutes
Serves: 2
Adapted from: Own recipe
Makes 6 pancakes, enough for 2 people. If you don't keep sourdough starter, just use 150g flour, 75g water, 75g milk. Example cheese sauce recipe.
Ingredients
For the pancakes:

300 g sourdough starter (100% hydration) or sponge
2 eggs
1 tsp salt
10 g olive oil or melted butter
For the filling:

600 g mushrooms
Thyme, to taste
ingredients for cheese sauce
Method
For the pancakes:
Mix the ingredients for the batter together.
Dry-fry six pancakes.
For the filling:
Cook the mushrooms down with some thyme. You may need to do this in two batches.
Mix into the cheese sauce (expert mode: cook the cheese sauce around them).
To combine:
In turn, place each pancake in a baking dish.
Add a generous amount of filling into the corner the pancake
Fold into quarters.
Spread any remaining filling over the pancakes
Optionally, bake at 200C for 10-15 minutes until the sauce on top is bubbling or brown.