Mushroom Stroganoff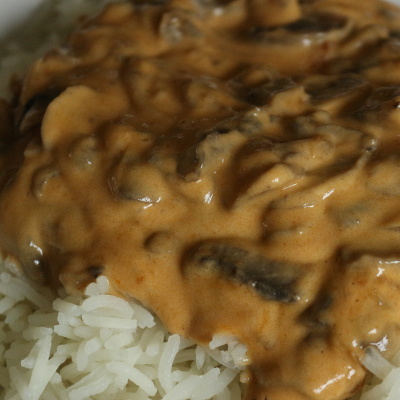 Preparation time: 20 minutes
Cooking time: 30 minutes
Serves: 2
Source: Adapted from Beef Stroganoff
This is one of those recipes you modify from the meaty original just to find that the meat basically added no flavour at all. I cook this one in preference to the beef version now.
Ingredients
10 g butter, to fry the mushrooms
20 g butter, for the roux
300 - 350 g mushrooms
1 small onion, finely chopped
1½ tbsp flour
2 tsp tomato purée
250 ml vegetable stock (2 tsp condensed stock eg Vecon)
2 tbsp white wine
3 tbsp sour cream
Method
Slice the mushrooms and the onion.
Melt 10 g butter in a deep saucepan and fry the onion on a medium heat with the lid on, until softened.
Add the mushrooms and fry on a medium-high heat until they have lost their water.
Remove the onion and mushrooms from the pan and put to one side.
Put on some rice to cook.
Melt 20 g butter in the same frying pan, add the flour, and cook for a couple of minutes to make a roux.
Add the tomato purée, white wine, and stock. Mix well and cook for a couple of minutes until thickened.
Add the onion and mushrooms back to the pan and heat through.
Turn off the heat (otherwise the cream will split) and stir in the sour cream. Serve immediately.