Mocha cupcakes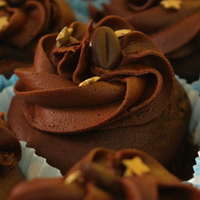 Preparation time: 20 minutes
Cooking time: 12 minutes
Serves: 30
Adapted from: Call me Cupcake
The amounts for the icing are extremely generous. The fairy cakes in the photo for this recipe used half quantities for the icing.
Ingredients
For the cupcakes:

240 g flour
80 g cocoa powder
1 tsp baking powder
1 tsp bicarbonate of soda
235 g caster sugar
1 egg
75 g butter, melted
1 tsp vanilla essence
150 ml buttermilk (or 50ml milk, 100g Greek yoghurt)
120 ml hot strong coffee (about 1 large tsp instant coffee powder)
For the icing:

200 g dark chocolate 300 g butter, softened (but not melted)
280 g icing sugar 120 g cocoa powder
30 ml espresso, cooled.
½ tsp vanilla
Method
For the cakes:
Measure the flour, cocoa powder, baking powder, bicarbonate of soda, and sugar into a large mixing bowl.
Add the egg, butter, vanilla essence, buttermilk, and coffee. Whisk together to make a smooth batter.
Place a very heaped tablespoon of batter each into 30 fairy cake wrappers.
Bake at 160°C for 8 minutes, then turn around and continue to cook for another 4.
Leave to cool before icing.
For the icing:
Melt the chocolate, and allow to cool for as long as possible to avoid melting the butter.
Whisk the butter with the icing sugar and cocoa powder to form a paste. Mix in the liquid chocolate, espresso and vanilla.
Use a piping bag to decorate the cupcakes.