Halloumi Roasties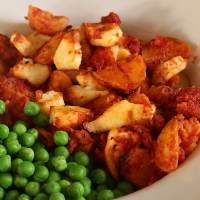 Preparation time: 15 minutes
Cooking time: 1 hours, 15 minutes
Serves: 2
Adapted from: Family recipe
Ingredients
1 can chopped tomatoes
2 tbsp tomato paste
sweet smoky paprika, to taste
mixed herbs, to taste
250 g halloumi
new potatoes for 2 people, cut into smallish chunks
olive oil
Method
Pre-heat the oven to 180°C.
Boil the new potatoes in salted water until just about cooked.
Put the new potatoes into a roasting dish, drizzle olive oil over the top and mix to coat.
Bake until the potatoes are crispy, turning them over reasonably often.
Meanwhile, empty the tomatoes into a frying pan. Fry with the tomato paste, paprika, and herbs, until thickened.
Add the tomato sauce to the roasting dish and turn to coat the potatoes completely. Tear up the halloumi and dot over the top.
Return to the oven at 200°C until the halloumi is browned and crispy.