Flapjacks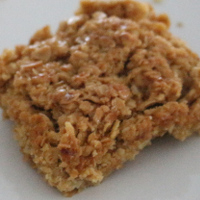 Preparation time: 30 minutes
Cooking time: 15 minutes
Serves: 10
Adapted from: Collection of old Carrier's Kitchen magazines
Ingredients
110 g / 4½oz butter or margarine
75 g / 3oz Demerara (light brown) sugar
9 tbsp golden syrup
330 g / 12oz rolled oats
a large pinch of salt
Method
Preheat the oven to 180°C / 350°F / Gas Mark 4. Grease a 11×7" cake tin.
Melt the butter, sugar, and golden syrup in a saucepan over a low heat.
Remove the pan from the heat and stir in the rolled oats, about a third at a time. Stir in the salt.
Turn the mixture into the tin and flatten it down solidly.
Bake for 15 minutes until the top of the flapjack is golden brown.