Crumpets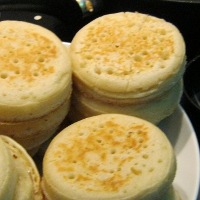 Preparation time: 10 minutes
Cooking time: 2 hours
Serves: 15
Adapted from: Hugh Fearnley-Whittingstall / The Guardian
This recipe has a long cooking time because each crumpet takes about 10 minutes to cook. Ideally, get a large pan that holds plenty of crumpet rings! The trick here is to not be impatient, or you'll burn the bottoms of the crumpets. Makes about 15.
Ingredients
450 g white flour (plain or strong)
350 ml warm milk
350 ml warm water (approximately)
5 g powdered dried yeast
10 g salt
2 tsp baking powder
A little sunflower oil, vegetable oil, or butter
Method
In a bowl, whisk the flour, milk, water and yeast into a rather runny batter the consistency of single cream. Cover with a clean dishcloth and leave for an hour at the very least, until really bubbly (three to four hours, if need be).
Gently whisk the salt and baking powder into the batter.
Lightly grease the crumpet rings and medium-hot pan. Put one ring in the pan, fill to just below the top – the batter should stay in the ring and lots of holes should appear on the surface after a minute or two. (If it dribbles out underneath, it is too thin, so whisk a little more flour into your batter mix. If lots of holes don't form, it's too thick, so whisk in some water.) Assuming your test crumpet is OK, after five minutes or so, when the surface is just set, flip it over, ring and all. (If the cooked base seems too dark, turn down the heat.) Cook for two to three minutes, until golden on the other side. Repeat with the remaining batter in batches. Butter and eat at once, or cool on a wire rack for toasting later.