Crispy Fried Tofu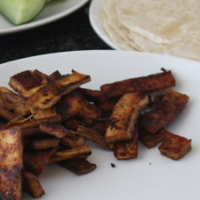 Preparation time: 30 minutes
Cooking time: 30 minutes
Serves: 1
Adapted from: Adapted from SpawnChorus on Mumsnet
While I think a lot of vegetarian versions of non-vegetarian dishes are a waste of time (Quorn bacon, stay away from my sarnies), this version of crispy fried duck is really delicious. The recipe makes 6 pancakes and enough filling for them all. That's enough for one person.
Ingredients
For the "duck":

200 g firm tofu block
3 tbsp honey
2 tbsp soy sauce
3 cm fresh ginger, grated
½ tsp chinese five-spice powder
For the pancakes:

100 g flour
55 ml hot water
To serve:

⅓ cucumber, sliced into thin strips
shredded spring onions
hoisin sauce
Method
Earlier in the day:
Slice the tofu into thin strips, and mix the rest of the ingredients together in a bowl.
Place the tofu strips onto a plate, and drizzle the marinade over them. Leave for a few hours.
Main method:
Mix the flour and water, kneed for a bit, and divide into six balls of dough.
Heat a frying pan over a medium heat.
Roll each ball of dough, using plenty of flour on the worktop and rolling pin, until it is a very thin pancake. Dry fry the pancake while rolling out the next one, and so on, until all six are cooked.
Place to one side and keep warm.
Now fry the tofu on a medium-low head, adding any remaining marinade. It will need 10-20 minutes each side to become nice and crispy.
To serve:
Heat the hoisin sauce a little.
Place a selection of tofu, cucumber, spring onion and hoisin sauce onto one quarter of a pancake. Fold up and eat. Repeat with the remaining pancakes.