Crepe Suzette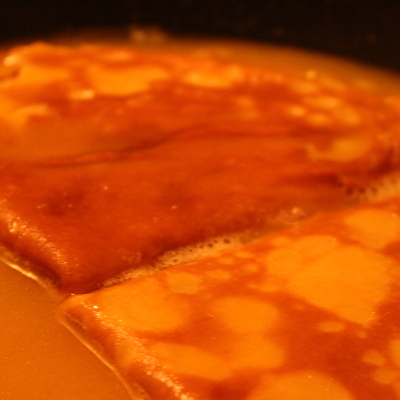 Cooking time: None
Serves: 2
Source: Jun's Kitchen
Makes two pancakes
Ingredients
For the crepes:

50 g plain flour
15 g sugar
1 egg, beaten
120 g milk
10 g unsalted butter
Pinch of salt
For the sauce:

200 ml orange juice (without bits)
20 g sugar
20 g butter
~20 ml cointreau
Method
Melt butter.
Add the sugar, salt, egg, butter, and milk into the flour. Mix well.
Make 2 crepes.
Juice oranges.
Melt sugar, butter in pan.
Add cointreau. Fire! Evaporate.
Pour in orange juice.
Fold the crepes into quarters in pan.
Serve immediately. Add rest of cointreau, lit if feeling fancy.