Couscous-stuffed Peppers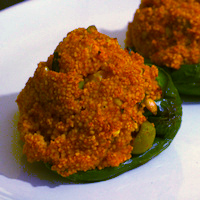 Preparation time: 10 minutes
Cooking time: 10 minutes
Serves: 1
Adapted from: Own recipe
Rice-stuffed peppers never really worked for me, and I discovered that some people use couscous instead. This worked really well, even with green peppers!
Ingredients
1 large or 2 small peppers
90 g couscous
150 g passata
15 g toasted pine nuts
6 olives
25 g feta cheese, cut into small dice
basil leaves, to taste
Method
Halve the pepper or chop the top off, depending on your preference, and deseed.
Microwave the pepper for 5 minutes. Skin if desired.
Meanwhile, cook the couscous in a small saucepan with the passata. You may need to add some water if all the passata gets absorbed.
Mix in the pine nuts, olive, feta and basil.
Spoon the couscous mix into the pepper. Bake in the oven at 180°C for 10 minutes.