Clap-hand Roti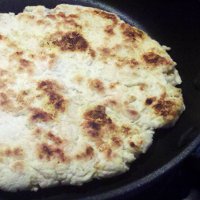 Preparation time: 15 minutes
Cooking time: 5 minutes
Serves: 4
Adapted from: Modified from Ainsley Harriott's Friends and Family Cookbook
This is somewhat like an unleavened naan bread, although somewhat simpler in taste. The original recipe serves them with the Carribean Lamb Curry, although I've also found them quite useful to make if I've run out of rice for a recipe.
Ingredients
225 g / 8oz plain flour
1 tsp baking powder
1 tsp salt
1 tsp curry powder or other spice, to taste
40 g / 1½oz chilled butter
vegetable oil or ghee, for cooking
Method
Sift the flour, baking powder, salt and spices into the bowl of a food processor, add the butter and process until the mixture looks like fine breadcrumbs. Transfer to a bowl and stir in 5 tablespoons water to make a stiff, but soft dough. Cover and leave in a warm place for 30 minutes
Kneed the dough on a lightly floured surface until smooth, then form into 4 balls, flatten slightly and roll out into 23cm / 9" rounds about 5mm / ¼" thick. Brush with the oil of ghee, fold in half, then into quarters, roll back into balls, and then roll out again.
Heat a dry, heavy-based frying pan or flat griddle over a medium heat. Brush each one in turn with a alittle more oil or ghee, add a roti to the pan and cook for 3-4 minutes, turning frequently and brushing with oil each time you do.
Remove from the pan, place in your palm and clap your hands together 3-4 times, taking care not to burn yourself. Wrap the roti in a tea towel and keep warm while you cook the rest.