Chocolate Yule Log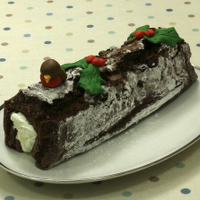 Cooking time: None
Serves: 6
Source: Adapted from Delia Smith
We had a debate over which way to roll the log (short edge or long edge). We prefer the way that gives you a longer, thinner log!
Ingredients
For the sponge:

125g caster sugar
42g cocoa powder
5 large eggs
For the chocolate ganache:

250g chocolate (50%)
60ml double cream
30g butter
75ml milk
For the middle:

225ml double cream, whisked to spreadable soft peaks
Method
For the sponge:
Whisk egg yolks until they start to thicken, then add caster sugar and whisk, then add cocoa and whisk. Whisk egg whites separately and then fold in. Bake in 12" x 7" tin lined with baking paper at 170C for 15-20 minutes until puffed and springy, cool in tin.
For the chocolate ganache:
Melt all the ganache ingredients, then whisk until cool. If not thickened, then put in fridge for 5 minutes at a time and then whisk more.
To assemble:
Put chocolate sponge top down on greaseproof paper liberally sprinkled with icing sugar, then spread on ganache, then spread on cream. Roll up. The sponge will split a bit; this is normal and adds to the log effect.
To decorate:
Use icing sugar to sprinkle over the top. Use fondant icing for edible models on the top.