Chocolate Tiffin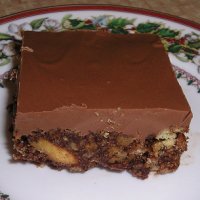 Preparation time: 30 minutes
Cooking time: None
Serves: 15
Source: Family recipe
This recipe was originally from a hand-written page of my mum's recipe binder. It's good fun to make and very chocolatey! Each piece has about the same number of calories in as a Snickers bar (about 274 kcal with 400g chocolate or 238 kcal with 300g, last time I went through checking values).
Ingredients
300g / 10oz crushed rich tea biscuits
225g / 8oz margarine
4tbls Golden Syrup
4tbls cocoa powder
2tbls sugar
400g / 14oz chocolate (300g / 10oz for a thin layer)
Method
Grease tins.
Crush the rich tea biscuits.
Melt the margarine, golden syrup, cocoa powder and sugar together in a large bowl.
Add the rich tea biscuits to the mixture and turn into the tin. Press down firmly.
Melt the chocolate and pour over biscuit mixture.