Chocolate Fudge Cake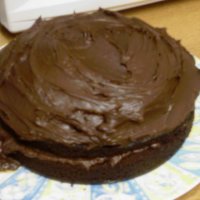 Cooking time: 1 hours, 30 minutes
Serves: 10
Adapted from: Cadbury.co.uk
Ingredients
For the cake:

125 g / 4oz butter
225 g / 8oz dark soft brown sugar
2 eggs
142 ml / ¼pint soured cream
175 g / 6oz plain flour
1 tsp baking powder
½ tsp bicarbonate of soda
50 g / 2oz cocoa powder
For the filling:

2 tbsp cocoa powder
125 g / 4oz butter
150 g / 5oz icing sugar, sieved
Approx 1 tsp vanilla essence
For the frosting:

200 g / 7oz dark chocolate
2 tbsp cocoa powder
142 ml / ¼pint double cream
Method
For the cake:
Preheat the oven to 190°C / 375°F / Gas Mark 5.
Cream together the butter and sugar until the mixture is light in colour and texture.
Gradually beat in the eggs, followed by the soured cream. The mixture should look curdled at this stage.
Sieve and fold the rest of the ingredients into the mixture.
Empty into a 20cm / 8" cake tin, and bake for 30-35 minutes, until cooked. Turn onto a wire tray to cool.
For the filling:
Mix the cocoa with 2 tbsp boiling water to form a smooth paste.
Beat together the butter, sieved icing sugar and vanilla essence, until light and fluffy. Then beat in the cocoa powder.
Slice the cake in half and then sandwich the halves together with the filling.
For the frosting:
Melt the chocolate.
Mix the cocoa with 2 tbsp boiling water as before to form a smooth paste.
Mix the cocoa paste into the melted chocolate.
Slowly whisk the cream into the chocolate mix until smooth and thickened.
The mix may take some time to thicken. Put into the fridge if necessary.
Spread the frosting over the cake with a knife.
Serve in slices with whipped cream or ice-cream. Best served hot so that the frosting and filling melt.