Chocolate Chip Oat Biscuits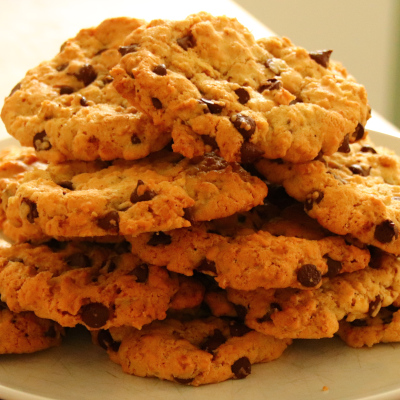 Preparation time: 30 minutes
Cooking time: 10 minutes
Serves: 30
Source: Unknown
Ingredients
115 g / 4 oz plain flour
½ tsp bicarbonate of soda
¼ tsp baking powder
¼ tsp salt
115 g / 4 oz butter/margarine at room temperature
115 g / 4 oz caster sugar
100 g / 3½ oz light brown sugar
1 egg
½ tsp vanilla essence
85 g / 3 oz rolled oats
200 g chocolate chips (two packs)
Method
Preheat an oven to 180°C / 350°F / Gas Mark 4. Grease 3 large baking trays.
Sieve the flour, bicarbonate of soda, baking powder, and salt into a small mixing bowl. Set aside.
Note: Bicarbonate of soda and baking powder are interchangeable.
With an electric mixer, cream the butter/margarine and sugars together in a large mixing bowl. Add the egg and vanilla, and beat until light and fluffy.
Add the flour mixture and beat on low speed until thoroughly blended. Mix the rolled oats in well. Stir the chocolate chips in with a large wooden spoon.
Drop heaped teaspoonfuls onto the prepared baking trays, spacing each biscuit about an inch apart. Bake until firm around the edge but still soft in the middle, which is about ten minutes. It's very easy to overcook them, so keep an eye on them.
Transfer the biscuits onto a wire rack and leave to cool.