Chocolate Brownies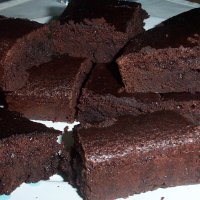 Preparation time: 20 minutes
Cooking time: 30 minutes
Serves: 18
Source: CacaoWeb.net
These rather predictably went down very well at work when I took some in.
Ingredients
¾ cup butter
1½ cup sugar
2 tsp vanilla
3 eggs
¾ cups plain flour
½ cup cocoa powder
1 tsp baking powder
100g / 3oz chopped pecans or walnuts (optional)
Method
Preheat oven to 180°C / 350°F / Gas Mark 4.
Line a 33cm × 22cm / 13" × 9" cake tin with greaseproof or other non-stick paper and grease the tin.
Melt the butter.
Beat eggs with sugar, and add vanilla, flour, cocoa, baking powder and melted butter.
Add chopped nuts.
Bake for 20-30 minutes or until a wooden pick inserted in centre comes out clean.
Cool the cake. Dust with icing sugar.