Chocolate Brownies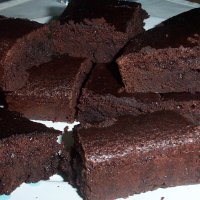 Preparation time: 20 minutes
Cooking time: 30 minutes
Serves: 18
Adapted from: CacaoWeb.net
These rather predictably went down very well at work when I took some in.
Ingredients
170 g butter
300 g sugar
3 eggs
2 tsp vanilla
90 g plain flour
60 g cocoa powder
1 tsp baking powder
100 g chopped pecans or walnuts (optional)
Method
Preheat oven to 180°C (gas mark 4).
Line a 30×20 cm cake tin with greaseproof paper.
Melt the butter.
Beat eggs with sugar, and add the vanilla, flour, cocoa, baking powder and melted butter.
Add chopped nuts, if using.
Bake for 20-30 minutes, until cooked through (test with a knife or toothpick).