Chickpea Curry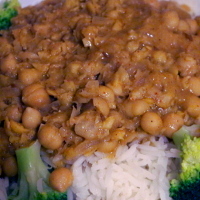 Preparation time: 10 minutes
Cooking time: 20 minutes
Serves: 2
Adapted from: Adapted from Zero Carbonista
Ingredients
1 tbsp rapeseed, sunflower, or coconut oil
1 small onion
1 clove garlic, crushed
2 -3 cm grated fresh ginger
1 tsp curry powder
¼ tsp cumin seeds
¼ tsp English mustard
1 tin chickpeas, rinsed.
1 tin coconut milk
¼ tsp chili powder (to taste)
Cooked vegetables (eg broccoli)
Method
Fry the onion in the oil until starting to soften.
Add the garlic, ginger, and cumin seeds. The seeds will start to pop.
Stir in the curry and chili powders, then add the chickpeas, coconut milk.
Simmer for 15 minutes or so, until starting to thicken.
Take off the heat and carefully use a hand blender to blend some of the chickpeas. This will thicken the sauce.
Mix in the cooked vegetables, and serve with rice.