Chewy Cookie-Cake Bites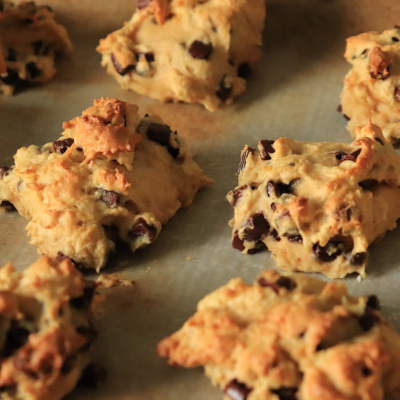 Preparation time: 15 minutes
Cooking time: 10 minutes
Serves: 30
Adapted from: Adapted from Veggie Primer
The original recipe uses apple sauce, though having run out of apple sauce one time I tried this, I peeled and pureed a nectarine instead and it worked just as well. The xanthan gum allows gluten free flour to be used if required. If using an electric whisk, I recommend mixing no more than half the recipe at a time as the dough clings quite heavily to the whisk.
Ingredients
270 g flour
1 tsp xanthan gum
1 tsp bicarbonate of soda
½ tsp salt
60 ml grapeseed oil
120 ml apple sauce or fruit purée
180 ml maple syrup
¼ tsp vanilla extract
200 g chocolate chips
Method
Mix the flour, xanthan gum, bicarbonate of soda, and salt in a mixing bowl.
Add the rest of the ingredients and mix well.
Spoon onto a baking tray using a couple of teaspoons. The mixture does not expand in the oven, so they can be spaced fairly close together.
Bake at 180°C for 8 minutes or until browned on top.