Chewy Chocolate Chip Cookies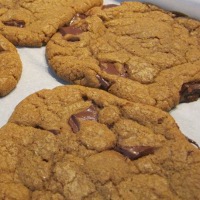 Preparation time: 10 minutes
Cooking time: 15 minutes
Serves: 9
Source: Elizabeth at Allrecipes.co.uk
Each cookie ends up about 10 cm across. The cookies will stiffen more after being removed from the oven, so don't worry if they come out looking a little squidgy.
Ingredients
85 g unsalted butter
100 g dark brown soft sugar
50 g caster sugar
½ tsp vanilla extract
1 egg
125 g plain flour
½ tsp bicarbonate of soda
½ tsp salt
150 g dark chocolate chunks
Method
Melt the butter in a medium mixing bowl.
Cream together the butter and both sugars until smooth.
Discard about half the egg white.
Add the vanilla extract and egg to the bowl, mix well.
Mix in the flour, bicarbonate of sofa, and salt.
Mix in the chocolate chunks.
Spoon the mix onto baking trays lined with greaseproof paper.
Bake at 170°C for 12-15 minutes.