Carrot and Coriander Soup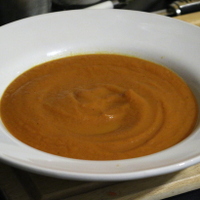 Preparation time: 30 minutes
Cooking time: 1 hours
Serves: 7
Adapted from: BBC Recipes
I make this much thicker than the original recipe called for; as such 'soup' probably isn't the best name for the thick liquid you end up with, but whatever it is, it goes great with granary bread. This makes about a week's worth, which you can freeze if necessary.
Ingredients
3 tbsp vegetable oil
3 onions
2 kg carrots
3 tsp ground coriander
2 l strong chicken or vegetable stock
fresh coriander for garnishing
Method
Heat the oil in a large pan. Chop up the onions and cook on a low heat.
Meanwhile, peel the carrots and slice thickly. Add to the onions.
Stir in the ground coriander.
Add the stock and season to taste (I like lots of black pepper).
Simmer for about an hour until the stock no longer completely covers the carrots.
Blend the soup until smooth. This will probably need to be done in batches.