Broad Bean Pilaf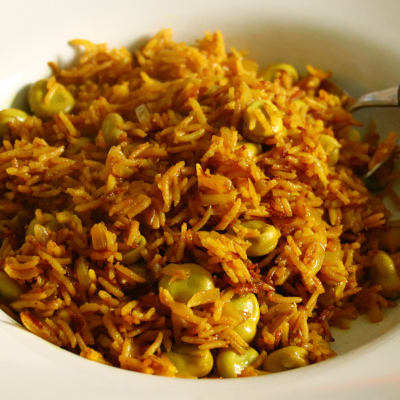 Preparation time: 20 minutes
Cooking time: 30 minutes
Serves: 2
Adapted from: BBC Food
The original recipe also features chicken, which can be added after the spices, but it tastes better with just the beans.
Ingredients
200 g basmati and wild rice
25 g butter
1 tbsp sunflower or vegetable oil
1 onion, chopped
2 garlic cloves, finely chopped
1 tsp ground cumin
½ tsp ground cinnamon
1 tsp turmeric
500 ml vegetable stock
275 g (approx) shelled broad beans (about 1kg before podding)
Method
Melt half (12g) of the butter with the oil in a pan, and gently fry the onions until translucent.
Add the garlic and spices, and fry for a couple more minutes.
Add the rice and stir-fry for a couple of minutes.
Add the stock and the beans, season with salt and pepper, then bring to the boil before lowering the heat. Simmer very gently until the rice is cooked and the water has evaporated away.
Stir in the rest of the butter (12g) and serve.