Blueberry Fool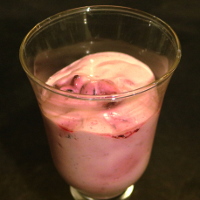 Preparation time: 10 minutes
Cooking time: 10 minutes
Serves: 2
Adapted from: Waitrose
Ingredients
250 g blueberries
50 g caster sugar
200 ml greek yoghurt
142 ml double cream
Method
Add 1 tbsp water and the sugar to a small saucepan, and heat until the sugar has melted. Add the blueberries and cook for 5-10 minutes until softened. Crush with a wooden spoon.
Whisk together the yoghurt and double cream for 2-3 minutes until soft peaks form. Fold in the yoghurt, then stir in about three quarters of the blueberries.
Fold in the remaining blueberries to give a rippled effect.
Chill for around 1 hour.