Black Forest Gateau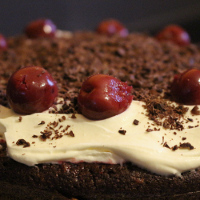 Preparation time: 2 hours, 20 minutes
Cooking time: 40 minutes
Serves: 10
Adapted from: Felicity Cloake / The Guardian
Some people might say this cake is stuck in the 70s, but having made it twice in a couple of months, I beg to differ. The hardest thing about making this cake is finding the syrup-soaked morello cherries, which are essential for the flavour. In the UK, German Deli sells Spreewaldhof brand schattenmorellen.
Ingredients
For the sponge:

6 large eggs
140 g soft light brown sugar
60 g cocoa powder
For the filling:

700 g morello cherries in syrup
3 tbsp brandy
500 ml double cream
50 g icing sugar
½ tsp vanilla extract
300 g morello cherry jam
To decorate:

25 g dark chocolate (50-70%)
Method
For the sponge:
Separate the eggs, with the yolks into the larger mixing bowl.
Whisk the egg whites to soft peaks.
Add the sugar to the yolks and whisk until the mix lightens. Fold in the cocoa powder.
Fold a spoonful of the whites into the yolk mixture to loosen it, then fold in the rest of the whites.
Bake at 180°C (160°C fan oven) in a greased 20cm cake tin for 30-40 minutes, until cooked through, and leave to cool in the tin - it will come away from the edges itself.
For the filling:
Slice the cake horizontally into three separate layers.
Mix 100ml of the morello cherry syrup with the brandy and spoon as much as much as you dare over each layer. The sponge should be saturated but not dripping.
Add the icing sugar and vanilla to the cream and whisk until it is soft. Be careful not to overwork it or it will be too stiff to spread.
Set aside 12 of the best-looking cherries.
Spread the following in this order over each layer of cake, building it up as you go:
A third of the jam
A quarter of the cream
A third of the cherries
On the top layer, finish the top with the rest of the cream, then place the 12 cherries put aside earlier around the edge. Grate the chocolate and sprinkle it over the top.