Beef Stroganoff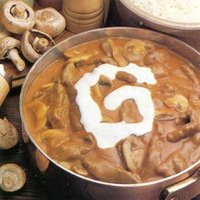 Cooking time: 50 minutes
Serves: 4
Source: Collection of old Carrier's Kitchen magazines
A really tasty, warming dish. I tend not to bother with the sherry in the sauce as I never have any about.
Ingredients
500 g / 1lb rump steak
3 tbls of flour
salt
75 g / 3oz butter
1 onion, finely chopped
75 g / 3oz of white button mushrooms, thinly sliced
1 tbls tomato purée
275 ml / 10 fl oz well-flavoured beef stock
150 g / 5 fl oz soured cream
1 tbls dry sherry
freshly ground black pepper
boiled rice to serve
Method
Cut the beef diagonally across the grain into neat strips about 0.5×5cm, discard any fat.
Combine 15ml/1tbls flour with ½ tsp salt in a polythene bag. Add the strips of meat, close the bag securely and shake until the strips are coated all over with the seasoned flour. Turn them out of the bag and shake off any excess flour.
Melt half the butter in a large deep frying-pan. When very hot, add the beef and brown rapidly on all sides -- the strips should remain very juicy and pink on the inside. Remove from the pan and keep hot.
In the same fat, sauté the finely chopped onion until soft and golden. Add 15g / ½ oz butter and the thinly sliced mushrooms, and continue to sauté, stirring, for about 3-4 minutes, until tender. Remove the onions and mushrooms from the pan and keep hot with the beef strips.
Add the remaining butter to the pan, and when melted, stir in 15ml / 1 tbls flour. Cook over a low heat for about 3 minutes, stirring and scraping with a wooden spoon to dislodge any pieces of meat or onion stuck to the pan.
Add the tomato purée, dry sherry and beef stock to the pan and bring to the boil slowly, stirring until the sauce is smooth. Then continue to simmer, for about 2-3 minutes, stirring occasionally, until the sauce is rich and thick.
Fold in the meat strips, onions and mushrooms. Stir in some of the soured cream. Adjust the seasoning, adding freshly ground black pepper and more salt if necessary. Reheat briefly, garnish with the remaining soured cream and serve with boiled rice.